Welcome to our special installment of Picks of WWDC.  This week some of the writers at iSource got together to chime in and give their impressions of what they saw, and in some cases, what they didn't see at Apple's World Wide Developer Conference Key Note this week.  Please feel free to comment on our selections, and add what you were happy or excited to hear about, and what you wish Apple would have introduced instead of, or in addition to what was revealed last Monday.
iOS 7
Picked by: PatrickJ
My pick is iOS 7. I hate to say it, but this is the first time that I feel pretty underwhelmed with a preview of the next generation of iOS. Maybe it's because I use the iPad so much more than the iPhone now and maybe iOS 6 will be much more exciting for those who use the iPhone much more heavily, and maybe it will grow on me  - but I just don't feel overly excited about this yet.
iOS 5 felt like a major OS update to me; iOS 6 not so much. And I feel disappointed at a few of the things we didn't see. Like a sensible, easy way to toggle services on and off. That's ridiculously long overdue now. Like nothing at all in terms of a refresh for the home screen and how we work with apps. Not even a mention of this. I don't have clever solutions for what's needed but I know for sure that some sort of rethink and refresh is overdue. I'd settle for a 'Back to iOS' token gesture like LaunchPad or Mission Control type features for iOS, or for almost anything that puts a fresh coat of paint on this area of iOS.
I'd like to see some level of shared files system access amongst apps. I'd like to see iCloud restores have real grown-up restore options, not the stupid all-or-nothing mode we have right now. I'd like to see FaceTime and iMessage get some cross-platform support rather than just see FaceTime over 3G.
I felt a little disappointed in iOS 6 as it was previewed on Monday. It's a decent update, with some nice enhancements – but my excitement level hasn't grown in the last few days.
Passbook
Picked by: BrandonK
I don't know if this is what I'm most excited about, but Passbook definitely caught my eye.  Maybe it's because it's not a blow away app or a revolutionary – or even new – idea.  As is the case with most things, Apple is late to the party on this.  But what happens next is going to be fun to watch – is it an instant hit like the iPhone itself?  Or does it bomb like Ping (which, by the way, was basically dead on arrival)?
The idea that my phone could also reduce some bulk in my Costanza-like wallet is enticing.  There's no magic crystal ball necessary here to look into the future of what "could be" if this is a hit; we already know.  Royalty cards may now become useful and more popular.  If we can carry them on our phone, maybe we'll be more apt to sign up for them since there will be no clutter involved.  Apple also mentioned items like coupons and plane & movie tickets, which is also cool.
Again, I understand this is probably the least-discussed new feature of iOS 6.  That's fine, because it might just fly under the radar and become a daily-used feature without us even realizing it happened.

Siri on the iPad
Picked by: Alex Jordan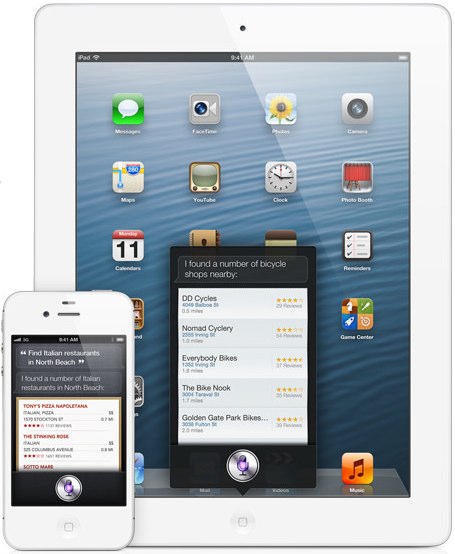 My pick this week is Siri on iPad. I tend to use Siri very heavily on my iPhone 4S while I'm driving around town. As I've pointed out before it seemed odd that the new iPad did not launch with Siri baked in. I then guessed that it was due to Siri's beta standing, and Apple not wanting to throw too many devices at the servers at once, and that they needed more time to beef up the infrastructure that makes Siri work. I also wondered if it was due to iPad not having a constant data connection like an iPhone does with cellular service. Well, it appears that it was more the form than the latter and the iPad will get Siri integration. I think this is fantastic, and will make things such as reminders, alarm clocks and other small tasks a breeze to complete on the iPad as well.
I like Siri. I think she is a helpful lady, and apparently many other iOS users do as well. Siri will be a welcome addition to the iPad as well. At least I'm looking forward to it.
Siri Improvements
Picked by: jhrogersii
My pick of WWDC is the new additions to Siri. She has taken a lot of shots from the tech media lately, thanks to her occasional outages, service delays, difficulties with comprehension, and limitations in scope. Apple needed to come out swinging at WWDC to put last year's groundbreaking feature back in the spotlight. I was personally hoping for a bit more than we got, but they definitely did deliver the goods.
First off, Siri has now become a big sports fan. The new sports scores and statistics features may seem frivolous to many users, but to those who love to follow their favorite teams while on the go, this will turn out to be a very helpful addition. I was extremely impressed with the high level of detail available, including player comparisons, team schedules, and league schedules. As handy as this will be for me as a fan, I can imagine that these new features have fantasy sports players everywhere drooling. Fast player statistical comparisons at your fingertips = the ability to make the right fantasy draft pick.
Another welcomed addition is Siri's ability to lookup movie and restaurant information and reviews. The Open Table integration for reservations that was in the original Siri App Store app has also made a welcomed return, as well. I could have really used the movie featres a couple of days ago, as I was looking for the closest showing of Prometheus while out of town for work. Siri found the theaters individually in Maps, and she did the Google search to get me showtimes, but it still wasn't a smooth experience, and would have been impossible to do while driving. Now, Siri will be able to find all of the necessary information, including driving directions, without having to rely on web searches in Safari.
Last, and my personal favorites, are Siri's new OS-level integrations. The service can now launch apps, post tweets and Facebook status updates, and provide detailed driving directions and mapping information. I am still waiting for the capability to make settings changes, like being able to turn WiFi and Bluetooth on and off, or change Brightness levels, but these are still very welcomed additions. For someone like me, who does a lot of driving, being able to fire up an app to get a quick update hands-free, or get directions and POI information with voice alone is a big deal. I already use Siri a lot, so now I will just be using it that much more.
Wrap all this up and combine it with the fact that Siri has finally arrived on the new iPad, and you have an update worthy of a killer feature. It is clear that unlike Ping, which was quickly pushed to the background after it fell out of favor, Apple will putting its full weight behind making Siri a success. This update shows me that Siri is a, maybe even THE headline feature in iOS at this point, and that Apple will not let it wither because of a few negative reviews. Keep it up Apple. Maybe you even give us some extra Siri love this Fall with the new iPhone. You can't blame an Apple fanboy for asking.
Phone Improvements
Picked by: AliciaB
Although I seem to be in the minority, I am genuinely looking forward to the improvements in telephoning in iOS 6.
As I wrote in my post, Apple is finally bringing some basic functionality – features that should have been there all along IMHO. Still, better late than never.
iOS 6 gives you the option of declining calls elegantly, either by preset or customized sms, and also gives you the chance to set a reminder to call the person back. This is a major enhancement that has been missing since the very beginning of iPhonedom. Now when someone rings and you don't want to/can't pick up, you hit the top button to silence the ringer (if active), but there's no way to send to voice mail (unless set up this way) or hang up. In the future I can choose to give the caller info on my current availability i.e. why I can't pick up. This way no feelings get hurt (at least this is the plan
)
I also sighed "at last" upon hearing the news of Facetime on 3G, a garing omission till now as well. I'll be able to phone up my sis in Trinidad regardless of whether we are both at home (or with free wifi) or not. A great leap in the right direction.
I should also mention the "Do not Disturb" features, which are great but not really apt for my situation since I mute my phone in the night anyway. Ever since I got "stalked" by someone who used to call me all hours of the night, I've chosen to mute my way through my beauty sleep. Still the customizable settings are cool and may sway me to use that rather than simple mute.
In the same way that it's often the little things that delight you everyday about using iOS, it's great to see that the little things that bothered me with iOS are being improved.
Facebook Integration
Picked by: Thomas
I've already written about my favourite Safari features in iOS 6, so I'll go with Facebook integration. I'm not a huge Facebook fanatic by any means, but I think it makes sense for iOS 6 to have access to Facebook to fill out empty phonebooks and make sharing even easier. I realize this goes both ways – that Facebook will probably get even more data from us, but I'm usually pretty careful about what I share on the social network, anyway. Liking apps and songs could be a really helpful way of passively sharing favourites, and automatically adding birthdays and Facebook events to the calendar is just good sense. Many of my social events are planned through Facebook now, so calendar integration is perfect.
Twitter integration was interesting, but Facebook is a whole other ball game. People aren't just going to like it it – they're going to love it.
Jonathon Ive
Picked by: Brandon
As much as I hate to side with Patrick, I'm going to have to. The WWDC keynote as it pertains to iOS was about as underwhelming as you could get, and more times than not I found myself thinking – Finally. Unfortunately at the same time, I was thinking "Where's the service toggles, where's the folders improvements, where's a public documents for sharing between apps, why can I still not delete your stupid Newstand folder thing?"
So my pick is the Jonathon Ive. That man makes hardware design seem like the coolest freaking job on the planet. Who else could describe a cooling system for a laptop and make it exciting? If you've watched the keynote – you know what I'm talking about. My alternate is Mountain Lion (because Lion has sucked) and specifically dictation because I'm looking forward to actually being able to speak my reviews and not have to pay ridiculous amounts of money for an app to do it (I'm looking at you Dragon Dictation).
Seriously… Mountain Lion was full of win. iOS full of .. "well maybe iOS7 will be better".
There you have it!  We hope you enjoyed this week's special installment of Picks of WWDC.  Please let us know what you think, and share with us some of your favorite parts from the Keynote in the comments section below.
images [apple]