As noted in our ongoing iOS 6 Beta 3 discussion thread, it appears that AT&T will be restricting and possibly charging for the new FaceTime-over-3G-network feature in iOS 6. Prior to iOS 6, FaceTime was a Wi-Fi-only service.




The following error message appears for AT&T customers in iOS 6 when trying to activate FaceTime over cellular networks: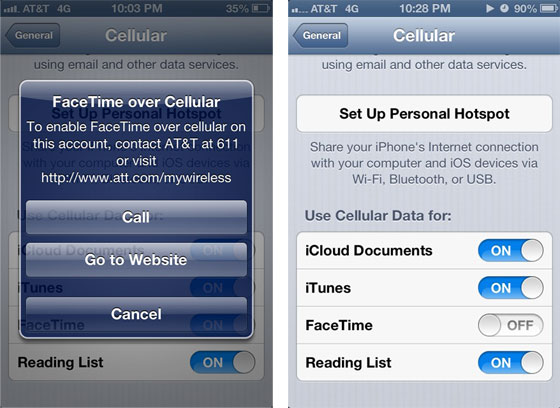 The error message is similar to one given to AT&T customers who wish to enable data tethering under iOS. AT&T requires users to pay for a separate tethering data plan to enable that feature.




At the time of the original iOS 6 announcement, we had reported that many carriers were quiet of the prospect of allowing FaceTime over their cellular networks. An AT&T spokesperson said that they were "working closely with Apple on features disclosed for iOS 6, and we'll share more information with our customers as we get closer to launch." We are reaching out to AT&T for an update or statement on their plans.




9to5Mac also notes the same behavior on AT&T networks and found the same error message did not appear when trying to activate FaceTime over Verizon's 3G networks.